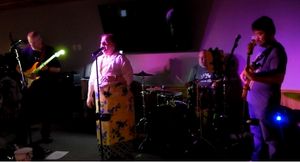 You asked and we listened! Five By Five now has a virtual tip jar!  We appreciate every gift and we THANK YOU from the bottom of our hearts! 

$FiveByFiveBandVA on Ca$h App 
@FiveByFiveBandVA-22306 on Venmo

Shows
Five By Five Entertainment is a promotional company providing the best in Live music, Karaoke and DJ services for your entertainment. From the Acoustic Duo Joint Venture, to full four and five piece powerhouse rock and country bands, we provide live music that specializes in recognizable, fun, dance easy listening music from the 40's through today. 

Click these links to sample Five By Five! 
O'Brien's Irish Pub in Warrenton VA 
Current lineup full show in 2020 at Griffin Tavern! (you can fast forward through the various tunes)
2013 Griffin Tavern with Mike Moroney on bass! (you can fast forward through the various tunes)
 Please check with the venues for any changes in the event of weather or other circumstances that might affect the time or schedule of the performance.